Grow a Butterfly
---
Painted Lady Rearing Kit
Raise Painted Lady Butterflies! Each rearing kit includes 3-5 Painted Lady caterpillars with enough food to complete their caterpillar stage, your choice of a blue or green pop-up enclosure and a mini-microscope (for a close-up view of the chrysalis!). You will also receive a care sheet that includes directions for emerging, feeding and releasing your butterflies. Once your butterfly emerges and is released, you can continue to enjoy the pop-up enclosure and mini-microscope to get a close-up view of nature!


---
Kit includes: 3-5 caterpillars with food, mini butterfly habitat, mini-microscope and directions.

Rearing kits are now available!

$19.00/ea


All caterpillar rearing kits are shipped via USPS Priority on Monday and Tuesday to ensure delivery during the same week. A single shipping fee of $5.00 will be charged per order, regardless of the number of kits you request.


---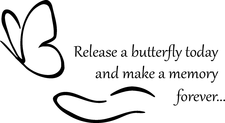 ---